Read Time
3 Minute, 10 Second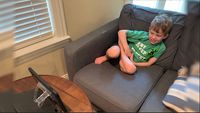 COLUMBIA – Some CPS parents and special needs advocates said CPS hasn't fully complied with Individualized Education Program (IEP) guidelines.
They said some students must be in-person for quality learning and understanding social cues as called for by their IEPs.
CPS parent Sara Rivera wants in-person learning for her son. Unfortunately, this isn't the case. Her son takes general education classes online.
"He's not learning. He's regressing in all of his skills that he had learned in all of his academics," Rivera said. "He's having to start back at things he has mastered before."
There's no in-class option for Rivera's son's IEP. Rivera finds it imperative that CPS provide in-person services to student with IEP's in general education. 
In a CPS special session meeting Aug. 31, CPS superintendent Peter Stiepleman said an in-classroom option should be provided.
"If there are opportunities for us to be able to do some type of work in building, we should try to do that," Stiepleman said.
CPS parent Molly Myers faces a different situation with her son, Will. Will attends a districtwide special education classroom. Those classes are allowed to have students in person inside the classroom.
"This year, we are thrilled that he is in seat because virtual learning would not have been an option for him," Myers said. "In the spring, he refused to get on zoom. So, no learning was able to take place with him that way."
But, on top of this, Myers balances work and virtual classes for her two girls.
"I am exhausted. I am also in second grade basically," Myers said. "I often have to tell people that when my second grade day is over, I can shift gears back to my adult life."
CPS spokesperson Michelle Baumstark said in an email, "We are offering in-person 5-days a week for our highest need, most fragile special education students through our district wide classrooms."
The Missouri Department of Elementary & Secondary Education IEP guidelines state school districts must implement allowing students to attend school, while following safety protocols, if the student makes no progress in his or her education.
Missouri Disability Empowerment president Robyn Schelp said CPS is not following all of what DESE mandates.
"Right now, parents have been told 'Sorry, your child's not in a district classroom. Online is the only option you have,'" Schelp said. "So, this is nice to see DESE saying no, there are other options and you need to explore them."
Rivera said she wants her son inside of the classroom so he can learn.
"He's maybe had maybe 20 minutes where he actually engaged with his learning specialists or his therapist," Rivera said.

During Thursday's CPS board work session, Stiepleman and Special Services Director Alyse Monsees added new updates for special education classes. This includes phase 1 of returning back to the classroom.
"We want to prioritize the group of K-2 IEP students who would come 4 days a week," Stiepleman said.
Monsees said social distancing is a must when this next phase of IEP students returns. She said phase 2 will allow IEP students 3-5 grade back inside the classroom.
"That is an important piece, that we are still able to socially distance by adding those students in," Monsees said.
Parents and advocates said teachers are the staple holding everything together during this strenuous time.
"I mean his teachers are doing the best they can. It's not his teacher's fault," Rivera said. "This is a failure on an administrative level to give teachers what they need to be successful, so that their students can be successful."