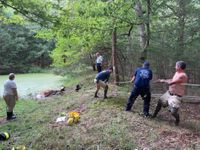 NEAR MACKS CREEK, Mo. (KY3) – A horse at Lake of the Ozarks is okay after getting stuck in the mud. The Southwest Camden Fire Protection District posted pictures to their Facebook Page.
Firefighters from Mid County Fire joined in the rescue north of Macks Creek Tuesday afternoon. The owner found the horse stuck in mud near a pond.
The firefighters worked to pull the horse out.
After getting some food and rest, the horse got back onto its feet. A vet then did a check up.
0
0
Editor is WebTech Group (WTG). WTG is a web hosting, design, SEO, press release distribution company and news agency located in St. Louis, Missouri. Site is owned and operate multiple news sites in the region. Our objective with STLNewsMissouri.com is to offer readers a one-stop news site for Missouri news. We aggregate news from news media across the state. We do not aggregate news from all sources. We pick from those that offer RSS feeds and pick the best with eliminating those that might produce the same news stories, written differently.