0
0
[ad_1]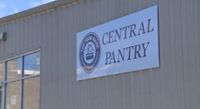 COLUMBIA – Central Pantry, which serves Boone County residents, is reducing its hours in order to continue serving people in its drive-thru.
According to a news release from the Central Pantry, the new hours will be:
Tuesday 10 a.m. to 1 p.m.
Wednesday 1 – 4 p.m.
Thursday 10 a.m. to 1 p.m.
Friday 1 – 4 p.m.
Saturday 10 a.m. to noon
According to the release, the pantry switched to a drive-thru format in March to protect its employees and patrons.
 Food is put directly in patrons' vehicles with minimal person-to-person contact.
[ad_2]

Source link
Editor is WebTech Group (WTG). WTG is a web hosting, design, SEO, press release distribution company and news agency located in St. Louis, Missouri. Site is owned and operate multiple news sites in the region. Our objective with STLNewsMissouri.com is to offer readers a one-stop news site for Missouri news. We aggregate news from news media across the state. We do not aggregate news from all sources. We pick from those that offer RSS feeds and pick the best with eliminating those that might produce the same news stories, written differently.