0
0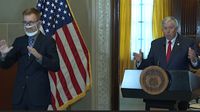 COLUMBIA- Governor Mike Parson will visit Columbia on Thursday.
Gov. Parson will meet with Columbia leaders and law enforcement to talk about violent crime ahead of the special session on the issue which starts Monday. Parson will meet with various leaders at City Hall starting at 10 a.m.
A protest is scheduled to meet at Flat Branch Park at 9 a.m. Monday to protest the governors visit.
Editor is WebTech Group (WTG). WTG is a web hosting, design, SEO, press release distribution company and news agency located in St. Louis, Missouri. Site is owned and operate multiple news sites in the region. Our objective with STLNewsMissouri.com is to offer readers a one-stop news site for Missouri news. We aggregate news from news media across the state. We do not aggregate news from all sources. We pick from those that offer RSS feeds and pick the best with eliminating those that might produce the same news stories, written differently.