Read Time
2 Minute, 10 Second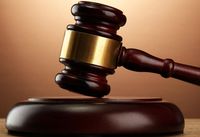 COLUMBIA (Missourian) – The family of Ahmonta Harris filed a lawsuit against Boone County on Tuesday in an effort to acquire records related to Harris' shooting death in 2018.
Harris, known for his community activism, was shot and killed after entering a residence with a handgun in November 2018.
Harris' family claims in the lawsuit that Boone County has refused to produce video and audio recordings related to Harris' death despite the fact the family is permitted access to those records under Missouri law.
"The law gives us the right to complete, unaltered and unedited copies of the records related to Ahmonta's death," Shauntel Franklin, Harris's girlfriend, said in a news release. "We deserve to know as much as possible about the circumstances of his death."
The family's suit claims that Boone County violated Missouri's Sunshine law in three instances:
First, Boone County allegedly attempted to charge Harris' family thousands of dollars in processing fees and 60 hours of attorney's time for access to the records.
Second, the county asked to redact the records after it had waived its legal right to do so.
Third, the county treated the family's record request as "abandoned," according to the release.
"These violations are appalling," Dave Roland, the family's attorney, said in the release. "It is unconscionable that more than a year after the family exercised their right to request unredacted copies of these records the county still has not produced them."
Harris was well-known in Columbia for his activism and his push make the community a better place after previous brushes with the law. He regularly attended community meetings and was one of the organizers of Columbia's annual "fireworks war," which he thought would help create a sense of identity for young Columbia residents. He also helped push for the creation of a community center in one of Columbia's north neighborhoods.
A celebration of his life was held in Douglass Park in December 2018 and drew a large crowd of friends and supporters.