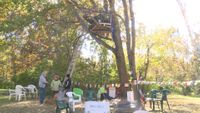 COLUMBIA (KBIA-FM) – After a years-long battle between local activists and the city that featured environmentalist Sutu Forté climbing a tree and refusing to come down for over a week, the Shepard to Rollins connector of the Hinkson Creek Trail formally opens Wednesday for bicycles, walkers and runners. 
The 10-foot wide concrete trail crosses the Hinkson Creek and provides non-motorized transportation access from Bluffdale Drive to MU. The trail will make up part of a 30-mile trail loop around Columbia and allow residents north of I-70 access to the MKT Trail, MU's campus and downtown Columbia.
The battle for the trail connector goes back over a decade. Forté and her neighbors said that the city first tried to put a trail in the area in the 1990s, but residents opposed it. 
To read more, visit our partners at the Columbia Missourian.
0
0
Editor is St Louis Media, LLC (STLM). STLM is a web hosting, design, SEO, press release distribution company and news agency located in St. Louis, Missouri. We own and operate multiple news sites in the region. Our objective with STLNewsMissouri.com is to offer readers a one-stop news site for Missouri news. We aggregate news from news media across the state. We do not aggregate news from all sources. We pick from those that offer RSS feeds and pick the best with eliminating those that might produce the same news stories, written differently.