0
0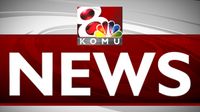 O'FALLON— Missouri is moving ahead with plans to execute a man next week despite concerns about the coronavirus that have prompted other states to postpone lethal injections.
Walter Barton is scheduled to die Tuesday for fatally stabbing 81-year-old trailer park operator Gladys Kuehler in 1991 in the town of Ozark.
An expert retained by Barton's attorney believes blood stains on Barton's shirt happened after Barton and others found the victim, not from the crime.
Barton's attorney says three jurors have expressed misgivings based on the new blood splatter evidence.
Editor is WebTech Group (WTG). WTG is a web hosting, design, SEO, press release distribution company and news agency located in St. Louis, Missouri. Site is owned and operate multiple news sites in the region. Our objective with STLNewsMissouri.com is to offer readers a one-stop news site for Missouri news. We aggregate news from news media across the state. We do not aggregate news from all sources. We pick from those that offer RSS feeds and pick the best with eliminating those that might produce the same news stories, written differently.