Read Time
1 Minute, 30 Second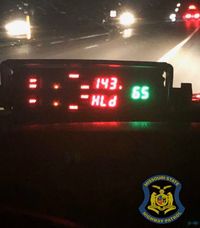 COLUMBIA – State Troopers are seeing fewer cars on the highways as stay-at-home orders continue.
But, Sergeant Scott White of Missouri State Highway Patrol Troop F said that doesn't mean they're seeing a decrease in traffic violations.
"We're doing good it has been a little bit different working out there on the highways," he said. "We've seen less traffic, but it seems like we're seeing a little bit higher speeds."
Many of the drivers they are stopping are more than 20 mph over the speed limit. They've even seen an increase in violations compared to other years. 
MSHP is posting these higher speeds they're seeing to social media. One Trooper near Lee's Summit clocked a car going 143 mph. That was 78 miles over the posted limit. Others were posted going 115 and 112 mph.
Sgt. White said they will continue monitoring traffic violations and responding to calls through the pandemic. 
He also said drivers need to be aware who they are driving around. People needing to be out on the roads are going to be essential workers. And, it's up to others driving to keep those essential workers safe. 
Sgt. White said if it is necessary to leave the house, this can be a way for people to help hospitals focus on treating those with COVID-19.
"What someone can do is drive safe. Because if you're not, you run the risk of getting in a crash, getting transported to the hospital. That takes up a bed. More personell to take care of somebody, more equipment to take care of somebody. So really what they can do is drive safe," he said.