Read Time
1 Minute, 1 Second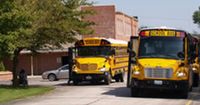 HALLSVILLE – Emma Hawkins, a graduating junior at Hallsville High School, said finishing her dual-credit classes from home have been more than a challenge.
"This math is hard," Hawkins said. "I am most worried about the final test."
Hawkins said her teachers are doing a great job adjusting to teaching online but she feels that she is missing out on a lot of information.
"Our classes in school are normally 50 minutes, but now everything is short and sweet," Hawkins said. "Now, we will have a recorded Zoom lecture that is maybe 10 minutes long."
Hawkins said she is hoping the teachers change the format of the final dual-credit exam.
Michelle Baumstark, spokesperson for Columbia Public Schools, said the AP Exams have been modified for at home learning. 
"Some exams have actually been shortened to I think 40 minutes," Baumstark said. 
Baumstark said she is happy how the teachers at CPS have adapted to the new learning style but understands how it can be challenging for their students.
Hawkins said the most difficult part of the day is not having a schedule and strict deadlines.