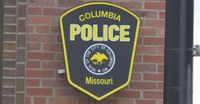 COLUMBIA – A woman died Wednesday after being in a motorcycle crash the night before.
Candace A. Stevenson, 36, died following a motorcycle crash Tuesday night. 
Police said Stevenson lost control of her motorcycle off of I-70 Drive Southeast. She was ejected once hitting a utility pole and transferred to a local hospital with life threatening injuries. 
0
0
Editor is St Louis Media, LLC (STLM). STLM is a web hosting, design, SEO, press release distribution company and news agency located in St. Louis, Missouri. We own and operate multiple news sites in the region. Our objective with STLNewsMissouri.com is to offer readers a one-stop news site for Missouri news. We aggregate news from news media across the state. We do not aggregate news from all sources. We pick from those that offer RSS feeds and pick the best with eliminating those that might produce the same news stories, written differently.