Read Time
2 Minute, 48 Second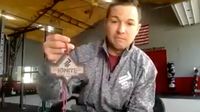 JEFFERSON CITY – Small businesses have been hit hard by COVID-19, but they are continually coming up with ways to better the community. 
Chad Chrisman owns Ignite Fitness and Performance in Jefferson City, which has been open for about two years.
"We concentrate on performance and how people move," he said. 
He said the gym wants to focus on your performance outside of the gym, as well, which is fitting for the times. 
Ignite Fitness temporarily closed its doors due to COVID-19.
Originally from California, Chrisman said he got over his surprise pretty quickly. 
"When it hit I was shocked, but I also heard a lot of people from California just relaying the message from over there because I feel like it hit hard over there first," he said. 
Donna Koelling, an Ignite member, said she was worried about staying active while staying home. 
"When they gave us the word that they were closing the gym, we were all freaking out, because we are all like one big family," she said. 
But, Amy Lee, a two-year member of the gym, said she knew they would come up with a solution.
"Right away we were all reassured and they have not let us down," she said. 
Like most businesses, Ignite is holding virtual classes for its clients, but Chrisman stepped it up a notch. 
The gym began "ReIGNITE 2020 Virtual 5k Walk/Run." The event focuses on reigniting the goals and passions people had at the beginning of the year. 
"I don't really see myself as a competitive person, as far as with other people, but for myself," Koelling said. "Setting standards for myself and seeing that time that I have and telling myself I need to get out there and work on beating this time." 
The idea for the 5k originally came from another small business.
"There's a couple other guys that are race directors that are putting on these races," he said. "Man, that's an idea. The weather's starting to be really nice over here and people are wanting to get outside and do some things." 
Participants have from April 1 to April 30 to either walk or run the 5k. Once they finish the run, they send photo evidence of their mileage, and receive a prize. 
"Every participant that finishes gets a medal. This is what my brother does, this is his business," Chrisman said. 
"I, personally, have never gotten a medal for anything, when it comes to running," Lee said. "So, hey, there's a first for everything."
The event has had a far reach so far, with participants in Missouri, California, Texas, and Tennessee.
Overall, Chrisman said he wants to give people something to work toward in a time where there isn't much to look forward to. 
"It's definitely been a reset for me because it has me focused on something other than COVID-19," Koelling said. 
"I think it's important to have something for yourself that you're still reaching for or feeling you are fulfilling a purpose or a goal," Lee said. 
To join Chrisman, go to ignitefitnessandperformance.com and select "Virtual 5K."