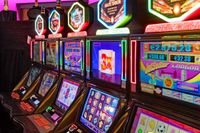 BOONVILLE – The Isle of Capri Casino and Hotel in Boonville has temporarily shut down business operations and implemented furloughs for 350 employees. 
The casino informed the state of the layoffs in a letter submitted yesterday.
According to the letter, all affected employees will be granted their temporary leave of absence beginning April 11.
"This emergency and these sudden and unexpected circumstances caused the temporary facility closure and adversely affected our business operations," the letter said.
Isle of Capri Casino and Hotel also temporarily shut down operations of their Kansas City location, which will affect 209 employees.
0
0
Editor is St Louis Media, LLC (STLM). STLM is a web hosting, design, SEO, press release distribution company and news agency located in St. Louis, Missouri. We own and operate multiple news sites in the region. Our objective with STLNewsMissouri.com is to offer readers a one-stop news site for Missouri news. We aggregate news from news media across the state. We do not aggregate news from all sources. We pick from those that offer RSS feeds and pick the best with eliminating those that might produce the same news stories, written differently.