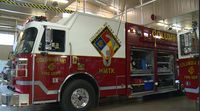 COLUMBIA – The Columbia Fire Department was dispatched to a residential structure fire at 903 Jefferson Street at 12:43 p.m. on Tuesday. 
The first unit arrived less than four minutes later and observed smoke coming from the roof of the structure. Further investigation revealed a small fire in the attic space above the living room. 
The fire was quickly extinguished and the situation was under control in approximately 15 minutes.
Assistant Fire Marshall, Kyle Edwards, was dispatched to perform a fire origin and cause investigation. He determined the fire originated in the attic space above the living room. The cause was "faulty wiring," and damage was estimated at $10,000.
Eight units from the Columbia Fire Department responded to this call. There were no reported injuries.
0
0
Editor is St Louis Media, LLC (STLM). STLM is a web hosting, design, SEO, press release distribution company and news agency located in St. Louis, Missouri. We own and operate multiple news sites in the region. Our objective with STLNewsMissouri.com is to offer readers a one-stop news site for Missouri news. We aggregate news from news media across the state. We do not aggregate news from all sources. We pick from those that offer RSS feeds and pick the best with eliminating those that might produce the same news stories, written differently.