Read Time
1 Minute, 33 Second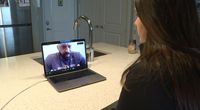 COLUMBIA – People around the country are facing new realities and, in some cases, a new virtual reality. 
Since the beginning of the spread of COVID-19, Mizzou Athletics has hosted virtual press conferences with coaches such as Eli Drinkwitz and Cuonzo Martin. 
On Tuesday, Martin held his second press conference since the SEC canceled its basketball tournament. 
"I think, like everybody, from a basketball standpoint, we would have loved to finish the season," Martin said.
The team was just one day away from its first game in the tournament, then the cancellations came rolling in.
"I didn't have a lot of information on the virus, outside of just snippets on the news, I didn't understand the magnitude of it." he said. "In the back of my mind I was always thinking, especially when they said they were keeping fans out, well we're still human as players and coaches." 
Since then things have changed dramatically. Players are working out at home and press conferences are online. 
Reporters log on to Zoom, a video conferencing website. 
"There's a way to kind of raise and lower your hand on the menu," said R.J. Layton, the associate director of strategic communications for the team. "If you have a question, just hit the raise hand and I'll un-mute you one at a time." 
So far, it has been an adjustment for all involved. Just last week, Drinkwitz noticed the changes.
"It will always be different for me whenever we have a press conference," he said." Now I'm looking at you all and see you in your homes."
Despite the change, it really is just business as usual. Reporters continue to ask questions and Martin and Drinkwitz continue to answer.