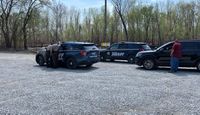 COLUMBIA – Boone County deputies say they are investigating a death after a man's body was found in Perche Creek, which leads into the Missouri River, on Tuesday afternoon.
Deputies say someone else found the body near the Providence River access point.
Editor's Note: This is a developing story and will be edited as more information is released. 
 
0
0
Editor is St Louis Media, LLC (STLM). STLM is a web hosting, design, SEO, press release distribution company and news agency located in St. Louis, Missouri. We own and operate multiple news sites in the region. Our objective with STLNewsMissouri.com is to offer readers a one-stop news site for Missouri news. We aggregate news from news media across the state. We do not aggregate news from all sources. We pick from those that offer RSS feeds and pick the best with eliminating those that might produce the same news stories, written differently.