Read Time
1 Minute, 13 Second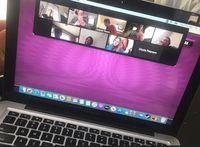 COLUMBIA – Eighth grade English teacher Kelsey Roy is ready to be back with her students. Not over Zoom, but in person at Lange Middle School.
Roy said this week has had its obstacles dealing with technology and adjusting to working from home. However, the most difficult part is not being with her students.
"You know, it has been just difficult as a teacher because we just thrive off of being able to be with the kids and being able to support them," Roy said.
So, Roy is doing everything she can to be there for her students. She has a Twitter account and a Youtube channel where she is posting power-points.
Roy said she has mixed feelings about classes being paused and what to look for Monday. She said she knows some students needed the break, but some also crave the structure a school day gives them.
"I feel like it's really unpredictable right now," she said. "I don't feel like we have really any idea of what's going to come in the upcoming month or two."
What Roy hopes is to see her students at least once more before they head off to high school.
"I'm hoping that we get back and that we get to see everybody healthy and happy in May, or even the end of April," she said. "But right now, I'm not sure if that's going to happen."