Read Time
1 Minute, 24 Second
Overview and Graphics
March 2020 Climate Review: Temperatures averaged around 4 to 5 degrees above normal. Paducah registered above normal temperatures on 22 of the 31 days, with the greatest departures occurring from March 26-28. Highs soared into the 80s in many locations on the 26th, achieving record highs in Paducah and Evansville. The month finished as the 6th warmest March on record in Cape Girardeau and tied for the 8th warmest in Paducah.
March was yet another wet month across the region, with the entire region finishing wetter than normal. In Paducah, precipitation has finished above normal in 23 of the past 27 months. Many locations observed 2 to 4 inches above their normal March precipitation totals. Amounts ranged from 5 to 8 inches across much of the region. A few higher amounts were observed, including 10.93" at a station near Dexter, MO. It was also an active severe weather month with several systems impacting the region on March 2, 12, 19, and 28. There were a total of 7 confirmed tornadoes with these events, with the strongest being two EF-2 tornadoes that occurred on March 28 in the Henderson, KY and Newburgh, IN areas. 
The graphic below is an interpolated rainfall map using actual observations. Please note that there are likely discrepancies in between observations, since the values are estimated based on nearest reports.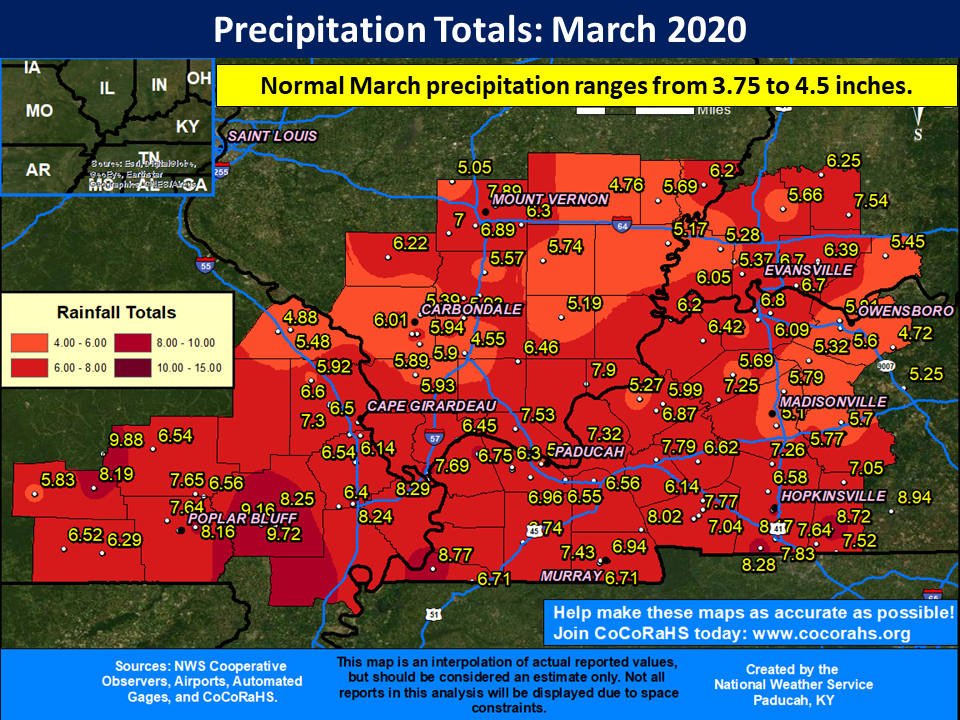 March 2020 Review: Precipitation and Temperat
ure Maps

(Click on image to enlarge)
COMING SOON!!
Climate Maps are from the Northeast Regional Climate Center