Read Time
3 Minute, 6 Second
[ad_1]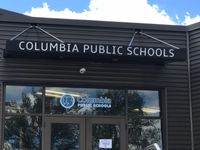 COLUMBIA – Columbia Public Schools have announced a grab-and-go meal delivery service for students in need, as schools remain closed until April 24 at the earliest.
The delivery system will begin Monday, March 30th.
CPS announced that there will be 8 buses running multiple stop routes every weekday. Students will meet at the designated bus stops to pick up their meals.
The grab-and-go meal delivery aims to help students who are in need as COVID-19 continues to limit availability to food and services.
The schedule is as follows:
Route: LUNCH 3 DERBY RIDGE AND PARKADE ELEMENTARY SCHOOLS
9:00am RALEIGH DR @ EDENTONBLVD
9:16am EDENTON BLVD @ GREENSBORO DR
9:35am SNOW MASS DR @ ASPEN RIDGE DR
9:51am BASELINE PL @ CLEARVIEW DR E
10:07am HACKBERRYBLVDE @ ROCKY FORK DR N
10:31 am 7400 MOBERLY DR N
Route: LUNCH 4 NEW HAVEN, CEDAR RIDGE, AND ELLIOT BATTLE ELEMENTARY SCHOOLS
9:00am HANOVER BLVD @ HERSHEY CT
9:17am OLYMPIC BLVD @ IMPERIAL CT
9:33am PINE GROVE TRAILER CT
9:48am HICKAM DR @ KIT FOX DR
10:04am STONEGATE MOBILE HOME PARK MAILBOXES
10:21am ENTRANCE OF THE LINKS CLARK LANE
10:39am PORT WY @ CANAVERAL DR
10:55am GRACE LN@VOLUNTEER DR
11:13am RICHLAND HEIGHTS TRL PARK-MAILBOXES
11:30am ALBANY DR @ KEENELAND DOWNS APT
11:49am OLD CEDAR RIDGE ELEMENTARY
Route:LUNCH 5 FAIRVIEW AND SOUTHERN SCHOOLS
8:59am CALLIE AND LUDWICKBLVD
9:16am LOUISVILLE DR S@LOUISVILLE CT W
9:32am GEORGETOWN DR W @ WATERFORD DR S
9:49am ARLENE DR @ CHERYL CT
10:05am COUNTRY HILL DR W @ BRAMPTON CT S
10:21am BETHANY DR W
10:37am BETHANY DR W@BELLVIEW DR W
11:02am BREAKTIME OFF ROUTE K
11:21am 652 PEAR TREE CIR
11:38am NIKKI WY @ CARRIERIDGE DR
11:54am CHRIS DR E @ CATHERINE DR E
12:13pm SANTIAGO DR @ GRANADA BLVD
Route: LUNCH 6 DERBY RIDGE AND MIDWAY ELEMENTARY SCHOOLS
9:00am NORTHLAND DR@BLUE RIDGE RD
9:17am ELLETA BLVD – FIRST INTERSECTION
9:33am COLONIAL VIILLAGE TRAILER PARK
9:52am 3800 JUNGLE TREE DR
10:08am ANTELOPE DR @ SQUIRREL DR
10:25am PARKADE ELEMENTARY SCHOOL
10:43am PARKLAWN DR @ TEXAS AVW
11:02am BLACKFOOT ESTATES
11:20am 1755 TIMBER CREEK DR
11:38am GARDEN DR @ HOLLYHOCK DR
12:03pm MIDWAY ELEMENTARY SCHOOL
Route: LUNCH 7 OAKLAND MS, BLUE RIDGE AND NEW HAVEN ELEMENTARY
9:00am HOLLY TRLR PARK – MIDDLE WEST ENTRANCE
9:16am PARKER ST@VANDIVER TRL CT-2ND ENTRANCE
9:34am NELWOOD DR @ QUAIL DR
9:52am ANN ST N @ AMELIA ST
10:10am STEPHENS PAVILION PARKING LOT (RIECHMAN PAVILION OFF OF WALNUT
10:27am BROADWAY VILLAGE ENTRANCE
10:47am NEW HAVEN CIRCLE
11:04am 4001 PONDEROSA ST
11:23am OPEN DOOR CHURCH
Route: LUNCH 8 ELLIOT BATTLE, BATTLE HS, AND TWO MILE PRAIRIE
9:00am GEYSER BLVD @ CASS DR
9:17am KELSEY DR @ IRMA DR
9:34am DOULTON DR N @ TRIKALLA DR E
9:50am GODAS DR @ VALLEY CREEK LN
10:08am SNEAD DR @ DEMARET DR
10:24am 704 DEMARET DR
10:40am ORIE DR N @ ARRATT CT E
11:00am PRAIRIE GROVE BAPTIST CHURCH
[ad_2]

Source link