Read Time
1 Minute, 50 Second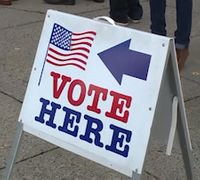 COLUMBIA – Missouri voters will head to the polls Tuesday to vote in the Missouri presidential primary election.
The state has an open primary election format, so voters don't need to be registered with a political party to vote.
However, when they get to their polling place, they get a choice between five ballots, each representing a different political party: Republican, Democratic, Libertarian, Green Party, and Constitution party. 
From there, voters will choose one ballot to vote on.
Voters can view their designated polling places at the Boone County Clerk's website.  For this primary as well, two central polling places are available for all voters. Those are at the Boone County Government Center on Walnut Street, and at Memorial Union on Mizzou's campus. 
Voters can also go to the clerk's website to view their voting information, including their polling place and sample ballots.
In the 2016 presidential primary, Boone County had a voter turnout of 54.3%. Boone County Clerk Brianna Lennon said she expects this year's primary to be similar. 
"Boone County does tend to have higher turnout than the state in a lot of areas, we have a really informed voter population, which is great, so I would expect probably around that number, about 55%," Lennon said.
Who turns out to vote, though, could make a difference in this year's primary.
Peverill Squire is a political science professor at Mizzou. He said with how this year's field shaped up, Missouri's primary has more national prominence.
"Turnout in Missouri in this case is dependent on where that turnout increase shows up," Squire said. "If it's across the board, it's probably better for Biden than it is for Sanders. If turnout in Boone County is very high, it's probably something Sanders would like to see."
Squire also said high turnout in Kansas City and St. Louis would probably bode better for Biden.
Polls open at 6 A.M. Tuesday and close at 7 P.M., but those who are in line by 7 P.M. will still get to vote.