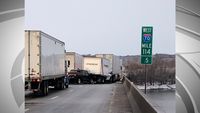 COLUMBIA – A Boonville woman died after a two car crash on the Missouri River bridge Wednesday morning.
Icy roads caused 35-year-old Chantel Winfield to lose control of her 2002 Kia Sportage at about 6:30 a.m. Wednesday, according to an MSHP crash report.
Winfield veered off the left side of the roadway and struck a concrete barrier before returning to the roadway and trying to exit the car while still in motion.
As Winfield exited her vehicle, it was struck by a tractor-trailer driven by Michael Gulley, 51 of Lawrence, Kansas.
Her vehicle continued off the right side of the roadway and struck a second concrete barrier while she was ejected.
Winfield was pronounced dead on the scene just before 7:51 a.m. It is the third fatality in MSHP Troop F for February and the sixth for the year.
0
0
Editor is WebTech Group (WTG). WTG is a web hosting, design, SEO, press release distribution company and news agency located in St. Louis, Missouri. Site is owned and operate multiple news sites in the region. Our objective with STLNewsMissouri.com is to offer readers a one-stop news site for Missouri news. We aggregate news from news media across the state. We do not aggregate news from all sources. We pick from those that offer RSS feeds and pick the best with eliminating those that might produce the same news stories, written differently.