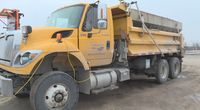 COLUMBIA – The city of Columbia Public Works plow crews are scheduled for 7 p.m. Tuesday, to prepare for possible snow and slickness Tuesday night through Wednesday morning.
The National Weather Service has issued a Winter Weather Advisory for mid-Missouri. There is currently a chance for two inches of snow accumulation overnight.
Public Works and City staff will continue to closely monitor road conditions and adjust operational plans as needed. Residents are encouraged to closely monitor changing conditions as winter weather can be unpredictable.
KOMU 8 will provide updates as they become available.
0
0
Editor is St Louis Media, LLC (STLM). STLM is a web hosting, design, SEO, press release distribution company and news agency located in St. Louis, Missouri. We own and operate multiple news sites in the region. Our objective with STLNewsMissouri.com is to offer readers a one-stop news site for Missouri news. We aggregate news from news media across the state. We do not aggregate news from all sources. We pick from those that offer RSS feeds and pick the best with eliminating those that might produce the same news stories, written differently.