Read Time
1 Minute, 26 Second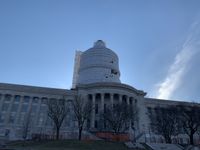 JEFFERSON CITY— Tuesday at the Missouri State Capitol, representatives heard testimony from people in regards to a house bill that could potentially change the conversations around sexual orientation and gender identification in public and charter schools.
Representative Chuck Bayse, R-Rocheport, is sponsoring House Bill 1565, which would require parents in public school districts to be notified when human sexuality is being discussed. It would include any discussion around gender identity or sexual orientation.
Jillian Dove, a transgendered woman in Columbia wants everyone to understand that LGBTQ are human too.
"There's a lot of misconceptions around transgendered people and LGBTQ," Dove said. "People jump really quickly to have social anxiety around this."
In October 2018, Gentry Middle School in Columbia had a display regarding sexual orientation and gender identity, that was put up by students and faculty.
According to KOMU 8's past reporting, parents and alumni had mixed reactions.
Dr. Fairouz Bishara, principal at Gentry Middle School, sent an email addressing the issue to all Gentry parents. "the display is part of our school's celebration of LGBT History Month," the email said. "Our diversity committee, which is led by teachers, chooses a topic every month to highlight with our students, teachers and community."
KOMU reached out to Dr. Fairouz Bishara, and she redirected KOMU to CPS spokesperson, Michelle Baumstark.
Baumstark said in an email that all school districts in Missouri have to provide instruction to meet state standards.
"Parents always have the option to opt-out, however when given the opportunity to review what is actually being taught, they typically don't opt out," Baumstark said.
The next hearing for House Bill 1565 is not scheduled yet.