0
0
[ad_1]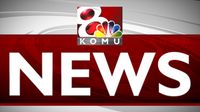 (CNN) — The United States reported its first confirmed case of person-to-person spread of the Wuhan coronavirus, the US Centers for Disease Control and Prevention announced on Thursday. This is the second confirmed case of the virus in Illinois.
This second person is a Chicago resident and the spouse of the first confirmed travel-associated case in the state. The second patient did not travel to China.
[ad_2]

Source link
Editor is WebTech Group (WTG). WTG is a web hosting, design, SEO, press release distribution company and news agency located in St. Louis, Missouri. Site is owned and operate multiple news sites in the region. Our objective with STLNewsMissouri.com is to offer readers a one-stop news site for Missouri news. We aggregate news from news media across the state. We do not aggregate news from all sources. We pick from those that offer RSS feeds and pick the best with eliminating those that might produce the same news stories, written differently.