Read Time
1 Minute, 37 Second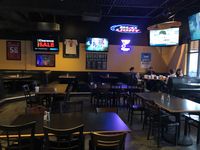 COLUMBIA – Super Bowl Sunday is already affecting local businesses.
"We've had multiple times where we get stuff in and we sell out within the hour. So, we can't keep stuff on shelves," Rally House Assistant Manager Steven Spadarotto said.
Rally House is one of the businesses supplying Chiefs fans with gear for Super Bowl Sunday.
"Usually, it's a lot of lifelong fans. You see a lot of older folks that were here for the first Super Bowl (the Chiefs) went to coming in and getting their merchandise and then we got a lot of families coming in, getting stuff for their kids," Spadarotto said.
Campus Bar and Grill is one of the many sports bars located in downtown Columbia that will air the game on Sunday.
"We're a sports bar and we're busy for the Super Bowl, but with the Chiefs being in it, it being 50 years since they've been there, we're expecting a lot. So, we're pretty excited," General Manager Matt Hudson said.
As for Super Bowl Sunday deals, Hudson says Campus Bar and Grill customers shouldn't expect anything different from a typical Sunday.
"We're still running our same burger special, fry special, pitcher special. So, everything is basically the same," Hudson said.
Other businesses are opening up specifically for the Super Bowl.
Although CJ's Hot Wings is usually closed on Sundays, they are taking catering orders from 2 p.m. until 4 p.m. on Super Bowl Sunday.
The restaurant is already taking pre-orders for wings on Sunday and workers said those who wish to eat their wings should start placing orders now.
"We anticipate probably filling up on all the orders and might have to turn some down," cook Max Libman said.
Whether you plan on watching the Super Bowl in a restaurant or at a bar, be sure to plan ahead and expect a bigger crowd than usual.