0
0
[ad_1]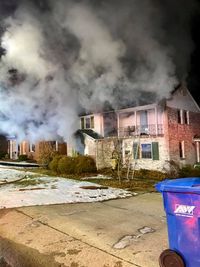 JEFFERSON CITY – Fire crews were dispatched to a residential structure fire in the 1000 Block of Laurel Drive on Sunday.
Crews responded to the call at 6:12 p.m and saw heavy fire from the front side of the house.
According to a Facebook post from the Jefferson City Fire Department, fire crews entered the structure and quickly located a victim.
JCFD Division Chief Jason Turner says the victim has been transported to the hospital. There has been no word on the condition of the victim.
The post reported that five fire companies, three chiefs, EMS and JCPD responded to the incident. Fire crews continued suppression efforts and had the fire under control within 20 minutes.
Crews are still on the scene conducting overhaul operations and investigating the cause of the fire.
This is a developing story and will be updated as more information is received.
[ad_2]

Source link
Editor is WebTech Group (WTG). WTG is a web hosting, design, SEO, press release distribution company and news agency located in St. Louis, Missouri. Site is owned and operate multiple news sites in the region. Our objective with STLNewsMissouri.com is to offer readers a one-stop news site for Missouri news. We aggregate news from news media across the state. We do not aggregate news from all sources. We pick from those that offer RSS feeds and pick the best with eliminating those that might produce the same news stories, written differently.