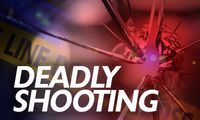 KANSAS CITY – Police say an armed security guard may have shot and killed a man suspected of fatally shooting a woman and injuring 15 more people outside a bar in Kansas City, Missouri.
The attack took place shortly before midnight Sunday outside 9ine Ultra Lounge. A motive for the shooting has not been revealed.
Kansas City Police Captain David Jackson told reporters early Monday that responding officers found "a chaotic scene." Jackson says a man and a woman were killed and police believe the shooter is the deceased man.
The venue was hosting an event to celebrate the the Kansas City Chiefs' progression to the Super Bowl.
0
0
Editor is St Louis Media, LLC (STLM). STLM is a web hosting, design, SEO, press release distribution company and news agency located in St. Louis, Missouri. We own and operate multiple news sites in the region. Our objective with STLNewsMissouri.com is to offer readers a one-stop news site for Missouri news. We aggregate news from news media across the state. We do not aggregate news from all sources. We pick from those that offer RSS feeds and pick the best with eliminating those that might produce the same news stories, written differently.