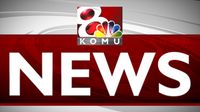 ARNOLD, MO – A couple who had been together for nearly 65 years have died on the same day at a St. Louis-area nursing home.
The St. Louis Post-Dispatch reports that Jack and Harriet Morrison's beds were placed next to each other, allowing them to hold hands. Eighty-six-year-old Jack died first on Jan. 11, and eighty-three-year-old Harriet died later that day.
The couple went on their first date on Halloween of 1955, and they married about six months later. The couple's niece, Sue Wagener, called it a love story for the books.
Together, the couple ran and grew V-K Bus Lines while raising Wagener and their two sons. 
0
0
Editor is St Louis Media, LLC (STLM). STLM is a web hosting, design, SEO, press release distribution company and news agency located in St. Louis, Missouri. We own and operate multiple news sites in the region. Our objective with STLNewsMissouri.com is to offer readers a one-stop news site for Missouri news. We aggregate news from news media across the state. We do not aggregate news from all sources. We pick from those that offer RSS feeds and pick the best with eliminating those that might produce the same news stories, written differently.