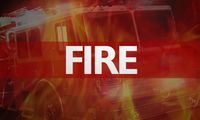 FLORISSANT – Additional charges will be filed against a man accused of setting a fire after a 16-year-old boy rescued from the burning home died.
Florissant Police say the boy died at a hospital where he was being treated for smoke inhalation after the fire in the St. Louis suburb.
The fire was reported in Florissant around 3 a.m. Friday. Police were unable to enter the burning home when they arrived, but firefighters with the Florissant Valley Fire Protection District rescued the boy who was in critical condition.
A man who lives on the same block where the fire happened has been charged with arson.
0
0
Editor is St Louis Media, LLC (STLM). STLM is a web hosting, design, SEO, press release distribution company and news agency located in St. Louis, Missouri. We own and operate multiple news sites in the region. Our objective with STLNewsMissouri.com is to offer readers a one-stop news site for Missouri news. We aggregate news from news media across the state. We do not aggregate news from all sources. We pick from those that offer RSS feeds and pick the best with eliminating those that might produce the same news stories, written differently.