Read Time
1 Minute, 9 Second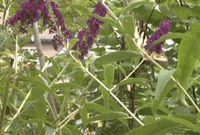 JEFFERSON CITY – The Jefferson City Parks, Recreation and Forestry will propose its plan for new botanical gardens to the Commission Board on Tuesday.
The new gardens would be located in Ellis Porter Riverside Park, just behind the 2-story white house overlooking the river. Parks, Recreation and Forestry Director Todd Spalding will make the announcement at 4:30 p.m. Tuesday.
The department's proposal for an additional botanical gardens comes from frequent flooding in Tizer Botanical Gardens and Arboretum in Jefferson Park. Spalding said the new gardens would add, and not subtract, from the community's existing parks.
"It's not a relocation, it's more of an addition to our presence in North Jeff," Spalding said. "This will be an additional and full scale botanical gardens."
The idea for new gardens came up last spring. The department has been making progress throughout the year with plans to move forward. If approved by the board on Tuesday, the department and master gardeners of Jefferson City could begin making designs for the gardens.
Spalding hopes to begin some construction this spring, exactly a year after the idea was first introduced. He explained how the department has received support from the community for the new gardens.
"From the conversations we've had, the feelings we get are all positive," Spalding said. "We feel confident moving forward with our proposal."