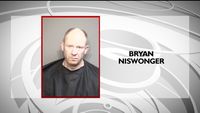 COLUMBIA – Police arrested a Columbia man after responding to a physical disturbance call Sunday night and finding a child endangered.
Bryan Niswonger, 37, is charged with endangering the welfare of a child in the first degree, endangering the welfare of a child creating a substantial risk in the first degree and domestic assault in the third degree.
Court documents say a witness complained about Niswonger striking a child with a can of baby formula and letting the child on the ground around broken glass and trash.
Niswonger is being held in the Boone County Jail on a $20,000 bond.
0
0
Editor is St Louis Media, LLC (STLM). STLM is a web hosting, design, SEO, press release distribution company and news agency located in St. Louis, Missouri. We own and operate multiple news sites in the region. Our objective with STLNewsMissouri.com is to offer readers a one-stop news site for Missouri news. We aggregate news from news media across the state. We do not aggregate news from all sources. We pick from those that offer RSS feeds and pick the best with eliminating those that might produce the same news stories, written differently.