Read Time
1 Minute, 3 Second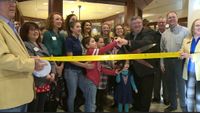 COLUMBIA -Heavy rain and thunderstorms are expected Friday evening with possibly one to three inches of rainfall. Overnight, it'll turn into freezing rain and sleet.
A mixture of heavy rain and rapidly dropping temperatures will make for nasty road conditions. With the water being much colder than usual, the risks for flash floods increases. The freezing water can cause hypothermia and make it harder to escape if swept away.
Assistant fire chief for Columbia Fire Department, Brad Fraizer, warns drivers to not drive through any roadways with standing water due to the high risks. He says one can never be fully sure how deep the water is going to be, and that it doesn't take much water to hydroplane.
"Stop. Find an alternative route, and just don't drive over road covered roadways," Fraizer said. "Take your time. Slow down. Apply your breaks gently… and really keep your speed appropriate for the weather that you're driving in."
The fire department will be prepared for any possible water rescues by having necessary gear and equipment at the ready.
MoDOT will also be updating road conditions on their website to give drivers a heads up if there are roads closures due to flooding.