Read Time
1 Minute, 3 Second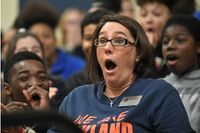 COLUMBIA – Oakland Middle School teacher Melissa Fike got a big surprise at an assembly Friday: a $25,000 award.
Fike earned the national Milken Educator Award, the only teacher in Missouri to get this year's award. One teacher from each participating state is selected to receive the Milken Educator Award each year. Fike was presented the award by Milken Educator Awards Senior Program Director Greg Gallagher and Missouri Commissioner of Elementary and Secondary Education Dr. Margie Vandeven.
Fike teaches eighth grade math and is also the chair of the math department at Oakland Middle School. She earned her bachelor's degree in secondary math education from the University of Missouri in 2006 and a master's degree in teaching and curriculum in 2013 from Northcentral University.
In a press release, Gallagher said Fike is a caring educator who makes the future a reality for students.
"Melissa Fike's students enjoy and employ mathematics both as a practical matter and as an academic exploration," Gallagher said. "By providing the creative tools to assist in her pupil's math mastery, Fike lets students glimpse the myriad of possibilities that lie ahead. For her relentless dedication and uplifting spirit, we're proud to welcome Fike as a Milken Educator."