0
0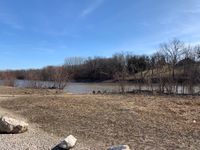 COOPER COUNTY – Law enforcement continued its search for Mengqi Ji Elledge in the area surrounding the Lamine River Wednesday.
The Columbia Police Department was assisted by the Columbia Fire Department and a dive team in the search.
KOMU 8's reporter on the scene also saw a boat for the Missouri State Highway Patrol in the water.
CPD tells KOMU 8 the search will continue, but there are no specific times or dates when the search operations will take place. They said some search operations could happen on private property.
CPD also said investigators are following leads to determine when and by what means the search will entail.
Editor is WebTech Group (WTG). WTG is a web hosting, design, SEO, press release distribution company and news agency located in St. Louis, Missouri. Site is owned and operate multiple news sites in the region. Our objective with STLNewsMissouri.com is to offer readers a one-stop news site for Missouri news. We aggregate news from news media across the state. We do not aggregate news from all sources. We pick from those that offer RSS feeds and pick the best with eliminating those that might produce the same news stories, written differently.