0
0
[ad_1]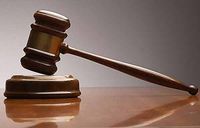 KANSAS CITY (AP) – A 42-year-old St. Joseph man was sentenced to three years in federal prison without parole for his role in the distribution of nearly $6 million of synthetic marijuana, commonly known as K2.
Shakeel Khan was sentenced Thursday and ordered to forfeit $2 million seized by law enforcement.
He also must pay $4.7 million judgment. Prosecutors said that accounted for all the K2-related money in his bank accounts.
Two co-defendants, both of California, were sentenced in December to four years in prison without parole. 
[ad_2]

Source link
Editor is WebTech Group (WTG). WTG is a web hosting, design, SEO, press release distribution company and news agency located in St. Louis, Missouri. Site is owned and operate multiple news sites in the region. Our objective with STLNewsMissouri.com is to offer readers a one-stop news site for Missouri news. We aggregate news from news media across the state. We do not aggregate news from all sources. We pick from those that offer RSS feeds and pick the best with eliminating those that might produce the same news stories, written differently.