Read Time
2 Minute, 7 Second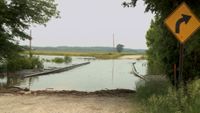 JEFFERSON CITY – The Missouri Department of Natural Resources submitted a report from the Flood Recovery Advisory Working Group to Governor Parson Tuesday.
The group was appointed by Parson to provide feedback to the state about recovery efforts from last summer's floods.
Governor Parson called for the group to submit an interim report by the end of the year and a final report by the end of May.
Missouri Department of Natural Resources acting director Dru Buntin said the main focus of the group is improving long-term infrastructure to prevent future flood damages.
"Part of the challenge in the recovery has been, with the water staying up so high, so long, understanding the nature of the damage in some locations is just now being possible," Buntin said.
The group made 24 total recommendations to the state of ways to improve flood recovery efforts.
Buntin said the group focused on things that the state could do to have more accurate expectations, such as improving real-time forecasting of river levels.
One thing Buntin said the group will do in the coming months leading up to the final report in May is monitor the conditions in the Missouri and Mississippi River basins.
"We're going to want to continue to monitor conditions to understand what we're likely to face as it relates to flooding," Buntin said.
He said even before the flooding started last year, the state was in talks with other states along the Mississippi River, such as Illinois, Iowa, Minnesota and Wisconsin, to look at areas of repeated damages and communicate with counties, cities and landowners to reduce the possibility of future damages.
Buntin said the state has had similar talks with states along the Missouri River, such as Iowa, Nebraska and Kansas.
The states outlined an agreement to work together in both short-term recovery and regional approaches to improve protection and infrastructure.
Buntin said the group will continue to discuss recommendations made in the coming months. In addition, they will hear presentations and public feedback on how to improve recovery efforts.
Buntin said that will let those affected by the flood damages see distinct impacts from the group's efforts.
"I think that will be an opportunity for the people that were impacted to have direct input into changes in our approach that will benefit them not only in the recovery from this year's flooding, but hopefully will be able to make those areas more resilient to this type of flooding in the future," Buntin said.